10/27/23
Listed #82 on Washington Business Journal's 2023 Top 100 Largest Private Companies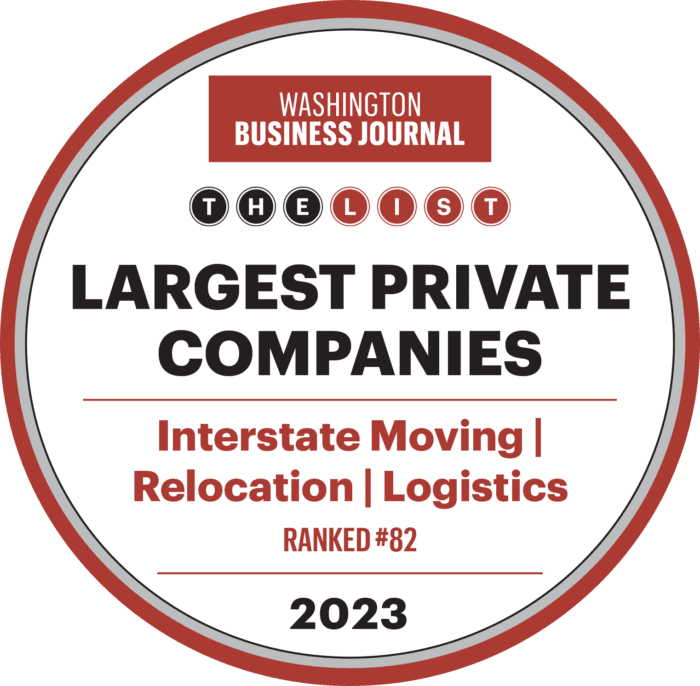 Springfield, Va. [October 4, 2023] – INTERSTATE Moving, Relocation, and Logistics, one of the nation's largest independent moving companies, today announced that it has been ranked #82 on the Largest Private Companies in Greater Washington list by the Washington Business Journal (WBJ). Interstate has climbed 5 ranks since last year's appearance on the WBJ list where the company ranked #87. The list ranks companies by revenue for the previous fiscal year.
"We are thrilled to be ranked as one of the top companies in the region on the Washington Business Journal's Top 100 Private Companies list," said Arthur E. Morrissette IV, Managing Director/President, Interstate Van Lines, Inc. "The growth that has earned us this recognition for the past several years would not be possible without a foundation we've built on quality, innovation, and training, along with our 97% customer satisfaction rating."
Interstate was previously featured on Washington Business Journal's Largest Office Moving Companies in Greater Washington, marking the 10th consecutive year in 2023, ranking #2. This year, for the first-time ever, Interstate ranked #13 on the Lists of Largest Corporate Philanthropists. Since its founding in 1943, Interstate has delivered quality professional moves, and a burning dedication to quality service – which has been trademarked as Interstate's exclusive Top Hat® service. The Interstate team adeptly manages, transports, and ensures the secure handling of over $1 billion worth of assets annually, spanning across 100+ countries.
The Washington Business Journal's Book of Lists is a collection of rankings of the largest and most influential companies in the Greater Washington area, by industry and category. Interstate has earned a spot on the WBJ Lists for years, dating back to 2014. The Book of Lists is a valuable resource for anyone who wants to learn more about the local business landscape and connect with potential customers, partners, or employers.
About INTERSTATE
The Interstate Family of Companies is one of the nation's largest moving companies, providing worldwide moving, warehousing, relocation management, supply chain logistics, and real estate services for corporate, government, and individual residential clients. Headquartered in Springfield, VA, Interstate maintains over 300,000 square feet of warehouse facilities, over 300 vehicles, and a global alliance of 1,500 service partners that expand our reach to 112 countries, 17,500 associates, and 6.5 million sq. ft. of worldwide warehouse and distribution facilities. Each year, Interstate is entrusted with the care of more than $1 billion in customer-valued property. The company distinguishes itself with exclusive industry certifications, including ISO 9001:2015, FAIMPlus for International Business, IOMI certification for office moving, and numerous industry awards. For more information, visit MoveInterstate.com or contact media@invan.com.